Phenolic Moulding Compound & Phenolic Resins are the products of

THERMOSETS (P) LIMITED. A company floated by experienced Indian entrepreneurs with a mission to build a global business enterprise on the key fundamentals of quality, service, reliance and amity. The company's products are manufactured at their Valsad and Kandla (Gujarat, India) plant under the guidance and strict vigil of highly experienced technocrats. Meticulous and stringent quality control right from the arrival of the raw Compound, through the production process, all the way to Q. C. laboratory clearance enables the products to attain the required quality and to fulfill the company's aim of offering most genuine quality products to customers.
Progressing by leaps and bounds the company has been able to develop an immense variety in its products for catering to practically any field where Phenolic Moulding Compound and Phenolic Resin can find application, nevertheless the incessant process of innovation continues to get the top priority of the company with the objective of fulfilling individual customer needs and excelling in quality.
Above all,

in business for strengthening ever lasting relationship with each and every customer is and shall be the motto of

THERMOSETS (P) LIMITED.
Since our founding in early 1997, Amity has grown from small beginnings into a leading manufacturer & exporter of Phenolic Moulding Compound in India. We have been moving forward aggressively on many fronts to capitalize on solid growth opportunities, to improve our operating efficiency, to expand our global presence and to sharpen our business portfolio's focus on our core Thermosets businesses. With hundreds of satisfied customers in India & worldwide Amity has successfully pursued an expansion strategy both in terms of developing innovative solutions and diversifying its Customer base across several countries and industries. Amity has always strived to be ahead of the curve by anticipating the market's needs and will continue to do so by working closely with our valuable customers. We are also seeing excellent growth in demand for our phenolic moulding compound & phenolic resins around the world.
Realising the responsibility on the shoulders of each member of Amity, we endeavour to be one of the most competitive companies in the industry with emphasis on efficiency in operations, reliability for customers and thrust on discovery and development of new product.
We are grateful for your interest in Amity, and we encourage you to explore Amity and our Web site. Please use the Feedback button on our Home Page to pass on any comments, questions or feedback that you may have.
Sincerely,
J.J.Chheda
Our Vision :
Being recognized as a Global Thermoset House by venturing into newer Thermoset product lines and expanding the capacities of the existing ones, thereby achieving a global leadership position in each of those verticals.

Thermosets (P) Limited offers the freedom of a startup with the stability of a large, profitable and growing company.
Our most valuable resource is our people: energetic, innovative thinkers who care equally about doing great work and developing a culture that's great for all our employees.
We hire great people and encourage them to make their dreams a reality. We believe in hard work, a fun atmosphere, and the sort of creativity that only comes about when talented people from diverse backgrounds approach problems from varying perspectives.
For applying any post you can send your resume at info@amityindia.com
| | |
| --- | --- |
| | 1997: Incorporated & Started production of PMC. |
| | 2001: Certified by Ministry of Defense(Q.A. dept.) for PMC supply. |
| | 2003: Test Facility approved by Ministry of Defense(Q.A. dept.). |
| | 2005: Renowned as a leading producer of PMC in India. |
| | 2006-2008: Approved vendor at major Government of India PSU. |
| | 2009: Established second production facility, dedicated entirely for export at SEZ, Kandla, Gujarat, India. |
| | 2009: Recognized as a EXPORT house by Government of INDIA. |
| | 2009: ISO 9001:2008 Certification. |
| | 2009: Adopted World Class Automated Production Technology. |
| | 2010: Commissioned a World Class Material Testing Facility at par with global quality standards. |
| | 2010: Successfully developed a High Heat Resistant PMC (For applications like Commutators, Cookwares, halogen bulb caps, etc.) |
| | 2011: Successfully developed High CTI, High Arc Resistant PMC. |
Achieving Optimum Level of Customer Satisfaction through stringent quality assurance measures and continual improvement in all spheres of operations.
Testing Capability :
| | |
| --- | --- |
| | ISO |
| | ASTM |
| | Indian Standards(IS) |
ISO Certified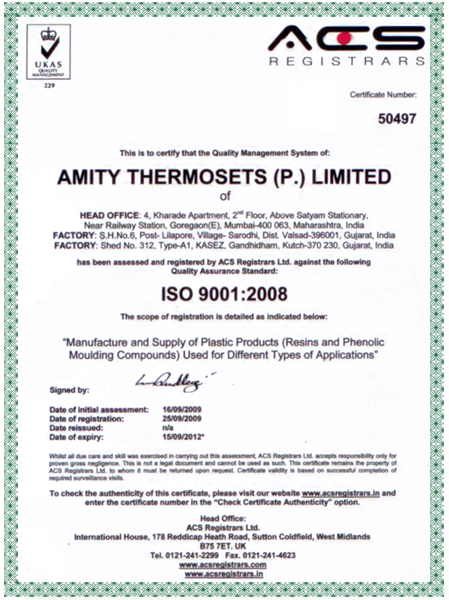 Crisil Certified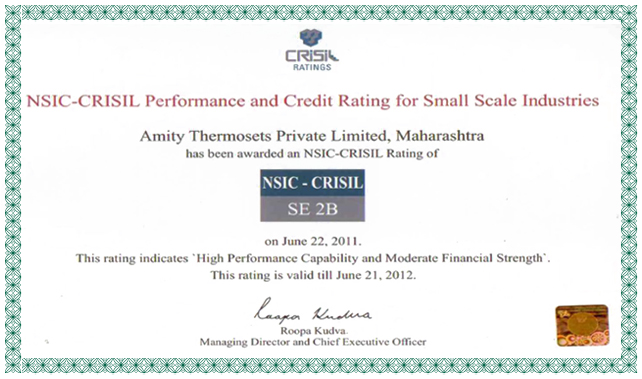 >